Powerful Accounting for the Growing Business
DacEasy made history as the first company to offer affordable accounting software for the small business. Although we are now part of the world's largest supplier of business software for small-to medium-sized businesses, our philosophy of offering powerful easy-to-use software at an affordable price hasn't changed. We are committed to helping you grow your business.

DacEasy Version 13 Product Overviews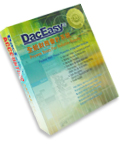 DacEasy is a Powerful, Easy-to-use, Complete accounting solution that has been winning awards and satisfying users for more than a decade. At the core of DacEasy is a series of fully integrated modules that give you vital information that's key to you successfully operating your business. Use them together or individually to fit your exact accounting requirements.


New Features


What's New for Upgraders


DacEasy v13 Tour


Upgrade Timeline
System Requirements
Pentium?or equivalent microprocessor running at a minimum of 150 MHz, Pentium?II or equivalent microprocessor at 300 MHz recommended

32 MB of free RAM minimum, 64 MB of free RAM recommended

Windows?98 Second Edition, Windows NT?Server/Workstation 4.0 with Service Pack 6a, Windows 2000 Server/Professional, Windows Me, Windows XP Professional or Netware 5.1

Complete List of System Requirements

Integrated Modules That Grow With You
At the core of DacEasy is a series of fully integrated modules that track information vital to successfully operating and growing your business. Use these modules, together or individually, to fit your exact accounting requirements:

| | |
| --- | --- |
| General Ledger (a complete audit trail) | Billing |
| Accounts Receivable | Accounts Payable |
| Inventory (includes Assembly!) | Purchasing |
| Custom Report Writer (Multi-file, up to 96 fields) | Cash |
| Recurring (Invoices, Payments and GL) | Fixed Assets |
Fast Setup and Access to Your Data
The Business Center included with your DacEasy Accounting software provides a single entry point for all DacEasy programs and includes a number of features designed to increase productivity. You can quickly view information on the Internet, view helpful tips, access activities and follow guides to complete workflow processes.
Use the Setup Workflow Guide to quickly complete each setup step. This comprehensive guide ensures that you won't skip any steps.

Present a Professional Image
Providing excellent customer service and building relationships extends beyond face-to-face interaction with your customers and vendors. Because printed correspondence is also a reflection of your company, make sure that your accounting software lets you produce custom, professional-looking correspondence. Create professional correspondence using:
Customizable forms including invoices, purchase orders, statements, labels and more.
Word mail merge letters with our built-in Microsoft Office integration.
Multiple Ways to View Your Data
Accounting software is only useful if you can get to your data. DacEasy understands this-that's why we have a number of ways for you to view your data.
Instant Reports allow you to quickly view key reports with a single mouse click. While fast access is great, the real power is the ability to click an area on the report to drill down to more detail. For example, if a customer inquires about their account, you can view the Accounts Receivable Aging, and then drill down on a past due invoice to view the invoice detail.

Create presentation-quality reports, selecting the fonts, color, paper size, orientation and more. If the standard reports don't meet your needs, you can create custom financials with the Financial Reporter and custom listings (up to 96 fields from multiple files) with DacAccess.

Microsoft Office Integration allows you to easily publish your data to Word or Excel.

Publish data to HTML, and then update your Web page or company intranet.

Export your data to a text or ASCII format.

LookUps allow quick access to existing records. You can sort on any column in a LookUp, include a secondary sort, sort ascending or descending and search for a record.

View multiple windows at the same time (even from different modules or companies).

Unrivaled Speed and Security
DacEasy is a full 32-bit program that utilizes the Pervasive.SQL 2000 database engine. This translates into fast and safe access to your data. Combine this with our advanced security feature, which allows you to control the areas each user can access, and you will feel confident in the integrity of your data.

Extensive Functionality
In addition to the typical features found in most small business accounting software, DacEasy includes a number of features usually only found in much more expensive software. For example, we have extensive inventory-related features such as multi-warehousing, multi-level price breaks and price assignment (various criteria), serial number tracking, reorder tracking, multiple costing methods (average, standard and last purchase price), assembly on-the-fly, backorder tracking, and much more!

Try Us Out for Free
We are so confident that you won't be able to find a small-business program as feature-rich as DacEasy that you can try us out for 30-days.

---
Legal Notices | Privacy Policy | Site Security

?2007, DacEasy (HK) Ltd., All Rights Reserved.
All other trademarks and copyrights are the property of their respective holders.



Daceasy Hong Kong Ltd.

Unit 701, 7/F, Tung Hip Commmercial Building, 244 Dex Voeux Road C., Hong Kong.
Phone: 852-2391-8816 Fax: 852-2390-9385